Click here for our tradeshow-specific website.
Exhibits & Trade Shows
Did you know at a trade show exhibit you have just three to seven seconds to grab the attention of that person walking by your booth? That's not very long.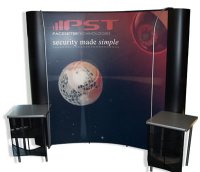 At Image House Digital we offer vibrant display graphics and versatile hardware for your trade show booth. We draw upon our extensive experience to come up with smart solutions — and we do it with a commitment to creativity and imagination.
Through our association with many of the finest graphic designers in the region, as well as our carefully selected hardware lines and in-house creative team, Image House Digital gives you all the tools you need to make the most of your marketing dollars.
And here's the really good news: our pop-up exhibit display systems are durable and simple to use. The modular components make installation and reconfigurations a snap. And when it's time to take it down, everything packs up all nice and easy into a small carrying case.
Every product we offer has passed our rigorous scrutiny.
Here's some of what we have available:
Lightweight retractable and non-retractable banner displays
pop-up display systems
table-top displays
fabric display systems
backlit displays
backdrops/backwall
podiums
accessories, such as point-of-sale sign holders
Since opening our production facility in Halifax in 1995, we have proven our commitment to technical excellence time and time again. We guarantee every product we sell, we invest in only the very best digital printing tools and technology and do all aspects of production and service in-house to ensure top quality work. In fact, at every level of Image house Digital you will find dedicated professionals who take great pride in paying attention to the fine details (some might even say we're a bit obsessive about it). We are never willing to settle for "good enough". We always strive for excellence. It's our passion. We supply quality pop-up exhibit display graphics and hardware. Learn more about how we can transform your next trade show exhibit.